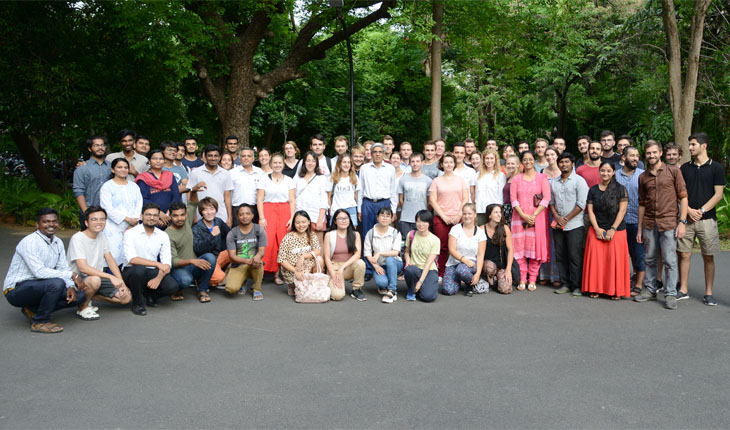 Foreign nationals registered for a UG/PG/PhD degree in a recognized Institute/University who are officially sponsored by that Institute/University to carry out Project work or to avail of a laboratory or other facilities at IITM for a period not exceeding two semesters can be accepted as visiting students under the MoU or non-MOU category.
The admission of foreign nationals under the MoU will be made in accordance with the terms and conditions spelt out in the MoU agreed to between IITM and the partner University/Institution concerned. Students are required to bear costs related to living expenses, boarding, lodging and travel. Accommodation is provided in hostels on payment basis (approx. 27,000 INR per semester).  Students arriving under the MoU will not be charged tuition fees.
For the admission of foreign nationals under the non-MOU category, students are requested to pay the corresponding tuition fee per semester as per the rules and regulations of IITM.
Fall semester: Commences on July 2nd week
Spring semester: Commences on January 1st week
Interested to join this program?
What kind of visa should I apply for?
UG/PG students can apply for a student visa and PhD students are requested to apply for a research visa.
Can a UG student do Project work?
Yes, UG students can apply for Project work.
Is course work compulsory for project work?
No, it depends on your IITM guide's recommendation. If your guide suggests that you take few courses, you can register for the courses.
- Mr. Avianto Nugroho, University of Kiel, Germany
My visit to India, particularly having participated in IITM as an international student has left me very nice impressions. I met many new friends and made close networking both with Indian students and other students from various countries. I felt so special, as I was the only student from Indonesia. In addition, student life on campus was supportive for student activities. Not only were the facilities all there, but also the International Student Affairs team was friendly and helpful. I learnt a lot during my project work and my supervisor from the Humanities Department made sure I got the at most knowledge from the project work. If I could wrap all my feelings and good impressions about my stay at IITM, I would say that I am really grateful. The experiences and stories have become part of my life that will always be with me wherever I go and I will always be excited to share with anyone. It may also be one of the best memories I have had in my life.
NOMINATIONS AND APPLICATIONS​