The SCES Student Think Tank is conducting an e-Symposium! A quick 30-minute session about India and Poland: The Future of our Partnership. The session will be conducted by Michalina Seliga, Secretary in the Political-Economic Section at the Embassy of Poland in New Delhi.
India and Poland have had a long history of diplomatic ties starting in 1954, sharing common ideologies based on their opposition to colonialism, imperialism and racism. India and Poland over the years, have had good exchanges at levels of heads of state and the respective governments. Poland is India's largest trade partner and export destination in the East European region, with growing bilateral trade. This webinar is to serve as an introduction to this partnership, and future scope for cooperation for the public, especially students who will go on work in these spaces. 
The e-symposium will address cooperation in Cyber Security, Smart cities, Green Technology, Fintech, Water management and Developments in Higher Education and Academic Collaboration.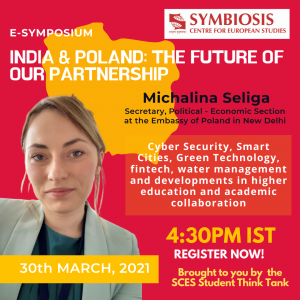 Date: 30th  March 2021
Time: 4:30 PM to 5 PM IST
Register here: https://zoom.us/meeting/register/tJUkdOitrDspHdFqbcpWv_VSekchLh6UHx2c