the Indo-German Centre for Sustainability (IGCS) would like to announce a great scholarship opportunity:
IGCS Summer School 2022 on "Sustainable Waste Management in the Nexus of Climate Change and Low Carbon Economy".
We invite young and interested graduate- and doctoral students to apply for the upcoming IGCS Summer School!
The University of Stuttgart, Germany, in collaboration with the Indian Institute of Technology Madras (IITM), India is organising the next Summer School and looks forward to welcome 15 graduate and PhD students each from German universities and Indian universities.
Short Summary
IGCS Summer School, July 18th – 29th 2022, physical event at RWTH Aachen University, Germany.
Contents: The IGCS Summer School aims to bring out the connections of sustainable waste management with clean energy, energy efficiency, reducing CO2 emissions, bio-based economy, and restoration of ecosystem and its services. Topics that will be deliberated include best practices and emerging strategies in Germany and India such as composting of biodegradable wastes, handling of construction debris, incineration of non-biodegradables, plastics upcycling methods, liquefaction of unsegregated municipal solid wastes and recycling of industrial wastes.
Target group: Graduate and PhD students from both India and Germany.
Funding: Selected participants from German universities will receive a mobility scholarship of up to 50€ as well as a scholarship of 240€ to cover living expenses during the School. Selected participants from Indian universities will receive a mobility scholarship of 1.075€ as well as a scholarship of 240€ to cover living expenses during the School. IGCS is covering the costs of stay.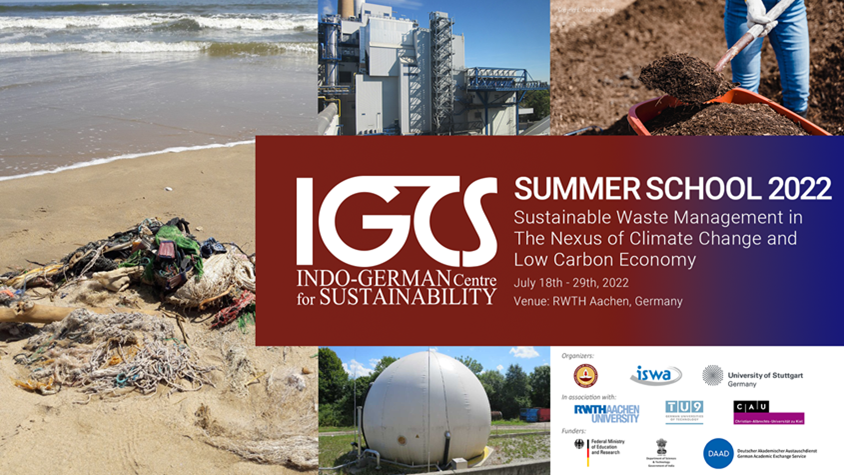 We would be very grateful if you announce the IGCS scholarship and Summer School within your network. Please find attached a poster. You may also share the link to the announcement on our website. You can of course also share our Facebook/Twitter/Instagram/LinkedIn post through your social media channel.
Please get in touch with us if you have any questions or need more information.
IGCS Centre Coordinators Professor Reicherter (RWTH) and Professor Vasudevan (IITM), the organizers Professor Kranert and Dr. Garcés (University of Stuttgart) and Professor Vinu (IITM), as well as the IGCS project team look forward to the scientific and cultural exchange with the participants!
Thank you for your support and best regards,