Indian Institute of Technology Madras is launching IIT M Research Initiatives Spotlight 2.0 (IRIS) to showcase the fifteen esteemed Centres of Excellence to the broad scientific community and policymakers. It will highlight the major research initiatives being pursued in emerging areas of global interest, with the centres poised to become world leaders in their respective fields.
The IRIS 2.0 webinar series will provide an opportunity to engage in conversations with eminent faculty from IIT Madras and other international researchers and identify opportunities for collaborations in those research areas.
The 'Institute of Eminence' (IoE) Scheme was launched by the Government of India to empower Higher Educational Institutions and help them become world-class teaching and research institutions. IIT Madras was selected as an 'Institute of Eminence' in September 2019. All public institutions selected as 'Institute of Eminence' are provided financial assistance of up to Rs. 1,000 crore over a period of five years to help them emerge as world-class institutions. In addition, they will be encouraged to admit foreign students and recruit foreign faculty.
"Attendees who actively engage in all 15 webinars will be recognized with a certificate of appreciation, recognizing their commitment to continuous learning and exploration."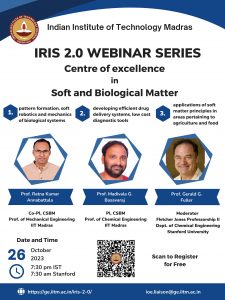 Title: Centre of excellence in Soft and Biological Matter
Date & Time: 26 October 2023, 7:30 PM IST
YouTube Link: https://youtu.be/g9-jNhNOFpk