The High Risk High Reward Mobility Grant is a unique program with IIT Madras' valued strategic partners. This seeks to strengthen existing and/or initiate collaborations with top research universities/institutions (preferably within the top 25 QS ranked universities or institutions of international repute). A collaboration with a researcher with impeccable credentials may also be considered.
OBJECTIVES
Provide a platform for long-term research engagement
Opportunity to initiate joint guidance for Masters/Ph.D. programs
Pioneering collaborative research leading to top quality peer-reviewed joint publications
Knowledge exchange beyond the host institution to include additional collaborators/institutions
Opportunity to explore bilateral regional grants
HIGHLIGHTS
IITM to provide financial support for faculty travel and stay for up to 2-3 months at top collaborating institutions.
One PhD student to travel with faculty and spend 6-12 months at the collaborating institute.
Complete financial assistance for the student's travel and stay at the collaborating institute will be available under this program.
PROCEDURE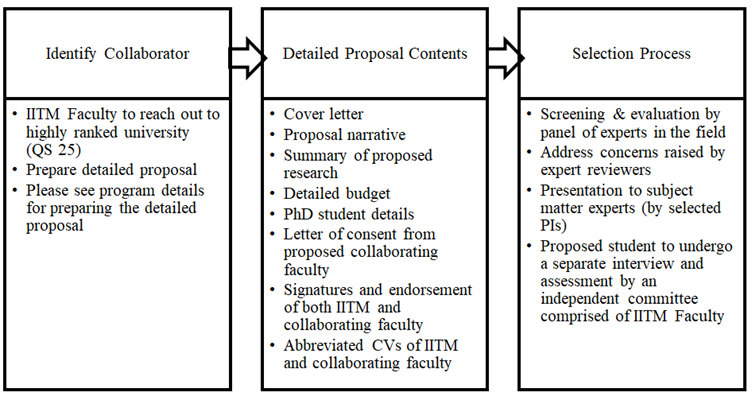 Figure: Procedure for proposing a Jointly Funded Bilateral Mobility Program