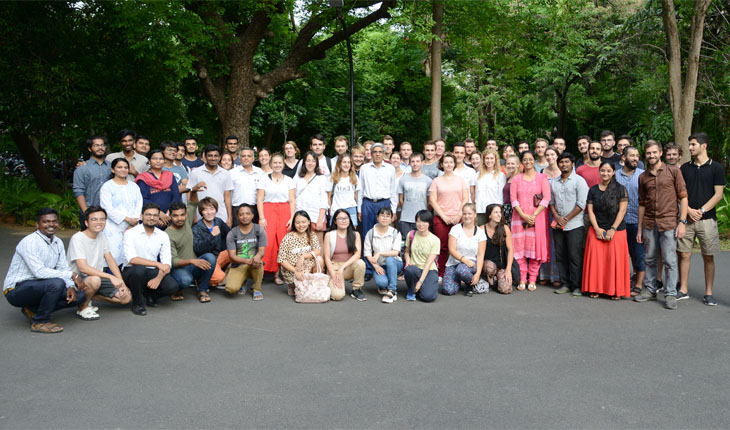 Foreign nationals registered for a degree in a recognized Institute/University who are officially sponsored by that Institute/University to carry out Course work at IITM for a period not exceeding two semesters (1 year) can be accepted as exchange students under the MoU or non-MOU category.
The admission of foreign nationals under the MoU will be made in accordance with the terms and conditions spelt out in the MoU agreed to between IITM and the partner University/Institution concerned. Students are required to bear costs related to living expenses, boarding, lodging and travel. Accommodation is provided in hostels on payment basis (approx. 27,000 INR per semester).  Students arriving under the MoU will not be charged tuition fees.
For the admission of foreign nationals under the non-MOU category, students are requested to pay the corresponding tuition fee per semester as per the rules and regulations of IITM.
APPLICATION DEADLINE/ADDITIONAL DETAILS
Interested in taking up our courses?
Ms. Claire Yü-P'ei Hollants
I really enjoyed my time at IITM. The lessons were very interesting and enriched my academic and personal point of view. The campus with its nature, was my peaceful home. I also really enjoyed international day and simple life on campus. Other students who went on an exchange at my university were sure to scare me with warnings about unclear directions and administration when it comes to exchange. I can say that thanks to your office, although there was a lot, the administration I had to fulfil was always very clear to me. The office always informed us on time and very clearly. Your office made us feel welcome.
Ms. Artizana Hasi
I had an amazing time at the IITM. The lectures and group work with my fellow Indian students were exciting and totally different from what I was used to in Germany. Sometimes I liked the Indian way more but at some times I would have preferred the German working style. I also got the impression that Indian professors are actually highly interested in the student's understanding their lecture content. On the contrary in Germany students have to prepare a lot of the lecture content on their own. The International Office was very welcoming and did a great job in preparing us to our new university.
What type of visa should I apply for?
All students opting for course work should apply for only STUDENT visa.
Can I do my course work exchange in my first year of UG/PG?
Foreign students (UG) who want to apply for course work exchange are expected to have completed at least 3-4 semesters at their home institution. PG students are expected to have completed at least one semester at their home institution.
Can I take courses across different departments?
Yes, students can register for courses from other departments as well.
Is there a minimum attendance requirement for exchange students?
Yes, students are requested to have a minimum of 85% attendance.
NOMINATIONS AND APPLICATIONS​