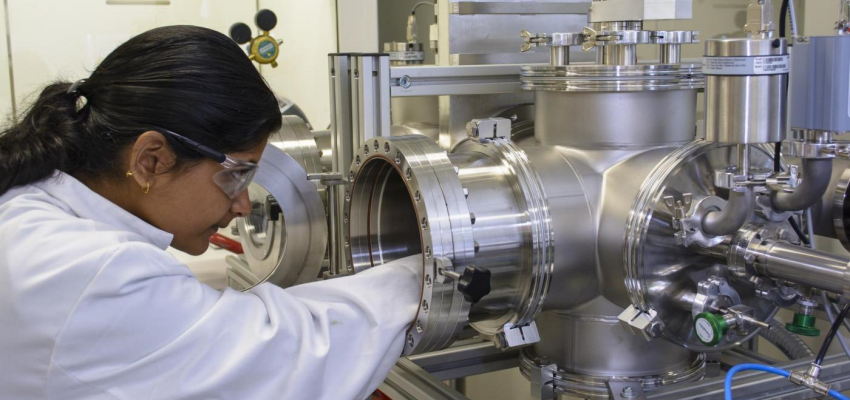 IIT Madras is a premier institute for research, which is home to a faculty of international repute and world class facilities. Faculty members at IIT Madras carry out high quality research, often in collaboration with researchers in areas which are at the forefront of cutting-edge research and technology. The Institute files more than 100 patents each year, and its faculty members and students publish top quality peer reviewed papers in highly acclaimed international and national journals.
Results of a recent survey among faculty revealed that most faculty believe that international collaboration is important, necessary, and complementary to their research at IITM. To support this, there is a need to focus on flexible mobility funding to enhance and sustain collaborations, particularly with highly ranked institutes (Eg: top 25 in the QS rankings).
The High Risk High Reward Mobility Grant is a unique program with IIT Madras' valued strategic partners. This flagship program is aimed at enhancing and increasing our collaborations with institutes of global repute through attractive mobility funding for students and faculty. It is envisioned that the program would:
The proposal should include the following:
Details are available in the program description.
After the deadline, approximately how much time it takes for the grant decisions to be made?
This is dependent to some extent on the reviewers, but rest assured that for travel in Summer 2022 you will be informed such that there is sufficient time to make arrangements for travel etc.
Once the grant has been given, is it expected that the travel is carried out within a particular period of time? For example, for this current round of grant the travel needs to be carried out within 2022?
Faculty are encouraged to travel in Summer 2022 and publications + student travel should be completed by the end of the summer of 2024.
For the required documents a) Proposal narrative, and b) summary of proposed research are there any page limits or specifications?
Please refer to the
document
on the program webpage for details.
Would it be ok if I submitted two applications with separate proposals?
Yes, that would be possible where there are different collaborators/ institutes.
Could you please clarify on why this programme is called 'high risk' - and not just a mobility award? Does the research proposed have to be something on those lines? Or does the risk here refer to working with new partners?
High risk because we would like the proposals to be in really novel/high risk areas.
There was an earlier call based on IOE where there was 1 vector on outbound visit - is this still on? Is that linked to this call?
The previous call based on IoE is still valid. The present call is not restricted to faculty (roughly about 40%) participating in IoE RI. This is open to all.
I am a new professor, so I do not have a PhD student. Is it necessary to have 1 PhD student OR Is it also OK, if the collaborating partner has one and his/ her details has been provided?
The proposal can contain the details of the PhD student from the collaborating university (given the absence of one from here). The student can be hosted at IITM, and the mobility built into the budget.
Is there any financial commitment from the collaborator/ partner?
No
Does the University have to be in the top 25 of the QS World University Ranking or is the subject ranking also okay?
Both are fine.
What is the expected outcome?
High quality publications and/ a patent. Eventual JDP/ JMP Programs.
Is IIT Madras going to bear all the costs related to my or student's travel and stay ? Or there are any expenses the collaborator has to take care of?
Partial support from the host institution is an added advantage but not a requirement.
I would like to supplement the 5-page proposal narrative with a separate bibliography section. Can the bibliography be in addition to the 5 pages of the narrative, or does it have to be within the 5 pages?
Yes
Can the budget include something beyond mobility? Can equipment or consumables be covered?
The budget can cover airfare, per diem, and accommodation.
What document(s) do I need to ask for from my collaborative institute/faculty?
The proposal submitted should be jointly signed and endorsed by the faculty member at IIT Madras and the partner from the proposed collaborative institution. A formal letter of consent from the proposed collaborator should also be submitted.